Take Advantage of BusinessLink at Bosak Motors


If you own a business, you are automatically eligible for a variety of automotive benefits thanks to the Chrysler BusinessLink program - and Bosak Motors is now a part of the BusinessLink network!  Membership for local business owners is entirely free, but the benefits to your business are numerous. If your business has a fleet of vehicles, you can trust Bosak Motors in Merrillville to keep you moving forward.
The Benefits of BusinessLink
As a member of the BusinessLink program, you'll enjoy a variety of exclusive benefits. If  anything goes wrong with a registered company vehicle, you'll get next-bay-up service. We also offer extended service hours for our BusinessLink customers, so you can count on us to get your vehicle back on the road in no time.
We also work to minimize the inconvenience of vehicle problems while you're on the job. If you bring a vehicle in for repair that's  still covered by the basic limited warranty, we'll give you a loaner vehicle for no charge. If the vehicle isn't covered by the basic warranty, we'll provide you with free shuttle service so you can get  back to your jobsite or office in a timely manner.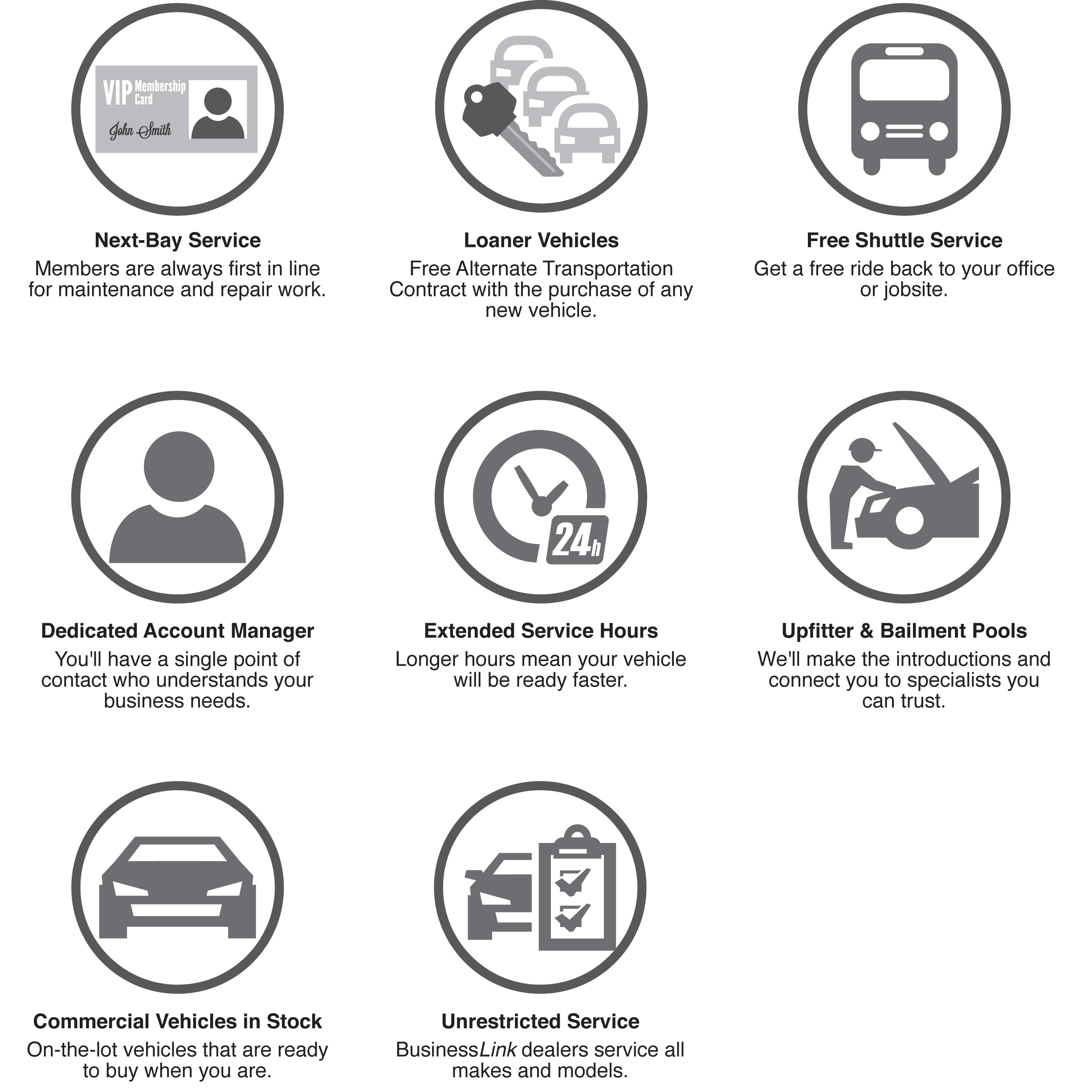 As a part of the BusinessLink network, Bosak Motors is specially equipped to handle just about anything that  might go wrong with your vehicles. We've also stocked up on parts that take a lot of wear and tear while on the job, so you can count on us to have the parts your vehicle needs on hand. You'll also get discounts on vehicles, parts, and service, and even access to certain Mopar accessories.
Why Do We Offer BusinessLink Services?
You might be wondering why we would offer all of these incredible services at no cost to you. The simple answer is that the success of Bosak Motors is dependent upon the success of local businesses like yours. When your business grows, so does ours: when we work together, we're stronger.
Register for BusinessLink Today!
It's easy to register for BusinessLink: just go to the BusinessLink website and fill out the simple form, or call (877) 2-THE-LINK. And remember, it's entirely free. If you  have any questions for us, you can give us a call at (888) 507-1403.