The 2013 Dodge Challenger vs. the 2013 Ford Mustang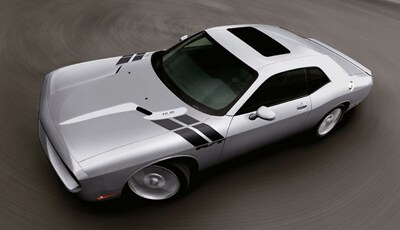 Some people might think the era of the muscle car has passed, that the classic combination of power and style that has defined so many great cars is a relic of days gone by. Those people, of course, would be wrong in that assumption, and the 2013 Dodge Challenger is proof of that. It is a modern vehicle in many ways, with updated styling, powertrain, and features, but at its core, it is pure muscle car. Drivers in the Hobart and Merrillville areas doing some research on the new Challenger may have also taken a look at the Mustang from Ford. Here's how they compare:

Unbeatable Power
When it comes to muscle cars, the ultimate competition is one of power: who's got the bigger, better engine? And when you compare the new 2013 Challenger to the Mustang, the prize goes to the Challenger. The Challenger SRT8 and the Mustang Boss 302 both come with V8 engines, but we know that all V8s are not created equal. The Challenger's V8 has a displacement of 6.4L, which easily tops the Mustang's measly 5.0L. The high-end Mustang only offers 444 hp and 380 lb-ft of torque, which just can't compete with the Challenger's 470 hp and 470 lb-ft of torque. The proof, of course, becomes obvious on the drag-strip. The 2013 Dodge Challenger SRT8 takes you from zero to 60 mph in 4.5 seconds. The Mustang Boss takes 4.8 seconds.


More Room
If you're buying a new muscle car, you're looking for more than just power and looks?you also want the best in comfort, convenience, and enjoyment. If you've got passengers, they'll be more comfortable in the Challenger, which offers 91 cubic feet of passenger space compared to the Mustang's 83; the Challenger also has room for one more in the back seat.


The Better Price
You might be expecting to pay more for a muscle car with a perfectly-tuned performance engine and generous passenger space like the Challenger, but you'd be mistaken. For a comparably-equipped Mustang Boss 302, you'll pay nearly a thousand bucks more than you would for the Challenger SRT8.


Visit Bosak Motor Sales Today for a Test Drive
Don't take our word for it, though. Come to Bosak Motor Sales in Merrillville to test drive the new Dodge Challenger today! From Hobart, Indiana, we are only about a 20-minute drive by heading south on Lake Park Avenue and going west on East 81st Avenue.